Limo and bus rentals are a great way to get around in style. You can rent one for your wedding or anniversary, take it to prom, or even book one for your next corporate events. If you're looking for quality transportation in Louisville, Kentucky, then I've got good news: there are plenty of options available! And while they're all different, they have one thing in common: they'll make your experience unforgettable. So if you're interested in learning more about limos and buses, keep reading—we'll discuss what makes these vehicles so special and why people choose them over other modes of transportation.
How Much Does It Cost For A Party Bus?
A Party Bus can range in price based on your needs. Sometimes it's even more effective to get a party bus than a limo, as it seats more passengers. A common rate for party bus is $90 to $250 an hour depending on how many people you plan to bring, pick up and drop off location.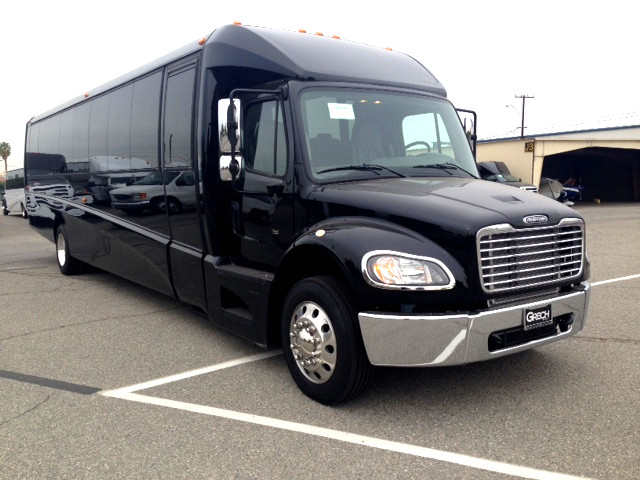 | Vehicle Type | Vehicle Passengers | Hourly Rates* |
| --- | --- | --- |
| 8 Passenger Limo | Up To 8 | $20-$35 |
| 10 Passenger Limo | Up To 10 | $30-$45 |
| 15 Passenger Limo | Up To 15 | $45-$55 |
| 20 Passenger Limo | Up To 20 | $65-$85 |
| 18 Passenger Party Bus | Up To 18 | $85-$100 |
| 20 Passenger Party Bus | Up To 20 | $100-$120 |
| 22 Passenger Party Bus | Up To 22 | $120-$140 |
| 25 Passenger Party Bus | Up To 25 | $140-$120 |
| 50 Passenger Charter Bus | Up To 50 | $160-$200 |
| 56 Passenger Charter Bus | Up To 56 | $200-$400 |
| 36 Passenger Shuttle Bus | Up To 36 | $150-$300 |
| 40 Person Shuttle Bus | Up To 40 | $150-$300 |
What is a Party Bus?
You have a couple options when thinking about a party bus, you can get a Party Bus or a Limo. Both types of vehicles are great options as they can seat from (10 people) to large groups (40-50 people). The party bus is very much like a limo, the driver becomes your own personal chauffeur. There is an array of different types of cars to suit your different taste and the mood for your overall event. Pick and choose whatever style, color and feel you want for your car and have a fun time with your friends and loved ones.
How many people fit in a party bus?
When planning to book a party bus, there are many options to seeing what best fits your needs. There is different kinds and different sizes of vehicles such as a Party Bus, Charter Bus, or a Limousine to safely and comfortably transport your group to your event. A normal sized Party Bus can seat anywhere from 12 to 28 passengers. However, a Limousine or SUV is ideal for 6-12 passengers
Where to go on a party bus?
School Events
Weddings
Birthday Parties
Prom
Night Out With the girls.
Bachelor/Bachelorette Party
Corporate Events
Sporting Events
How much do you tip a limo driver?
When thinking about what to tip your limo driver, there are few things you should keep in mind. To start, think about how was the overall service, timeliness, or the condition of the vehicle you received. A good rule of thumb is to tip about 20% of the price, if the service was overall a great experience.
What size and what type of Party Bus should I get?
When planning to book a party bus, there are many options to seeing what best fits your needs. There is different kinds and different sizes of vehicles such as a Party Bus, Charter Bus, or a Limousine to safely and comfortably transport your group to your event. A normal sized Party Bus can seat anywhere from 12 to 28 passengers. However, a Limousine or SUV is ideal for 6-12 passengers
How old do you have to be to be in a party bus?
If the trip is a nighttime bar event, everyone on the bus must be 21 years of age. The only exceptions are when we are going somewhere that the people under the age of 21 can get into.
How Much Is a Limo Rental?
The cost of renting a limousine will depend on the size of the vehicle, the amenities that are included, and how many people you plan to transport. A small sedan-style limousine with seating for four people might cost around $100 per hour or less. A large SUV-style vehicle is ideal for larger groups and can range from $200-$300 per hour or more, depending on its size and amenities (such as TVs, stereos and other entertainment options). A full-sized bus may run anywhere between $250-$400+ per hour (or even more if equipped with all kinds of extras like bars or plush leather seats). You should also keep in mind that there may be additional charges for transportation services such as tolls or parking fees.
What Are People Saying About Limos in Louisville?
Limos are a great way to get around. No need to worry about traffic, parking, or searching for a cab. Limos offer plenty of space for your party and you can even request a flat bed for your comfort!You'll also love the privacy. When you're in a limo, you won't have to answer any questions from strangers because they're just not invited into your vehicle. You can sit back with friends or family and talk about whatever you want without having to worry about being overheard by anyone else on the road. You'll also appreciate how comfortable these vehicles are: soft leather seats, climate control systems that keep everyone happy regardless of their preferences (hot or cold), music systems that allow everyone in the car to share their favorite songs or playlists…the list goes on! There's no better way than this when it comes time for fun with family or friends!
How Do I Set up a Custom Charter Bus Rental to Louisville?
It's easy to set up a custom charter bus rental to Louisville. Contact the company of your choice, and let them know you'd like to reserve a bus for your trip. Book the bus by paying a deposit and then paying off the balance once you receive confirmation from the company that your reservation has been confirmed.
What Are Your Rates?
We offer a wide selection of luxury vehicles, ranging from sedans to limousines. The type of vehicle you choose will depend on your group size and trip duration. Our rates are based on the number of passengers and duration of the trip, but other factors like airport drop-off fees or late night pick up charges may affect your total cost. We also provide hourly rates for corporate meetings or special events such as weddings, anniversaries, or graduations. If you have any questions about our hourly rates or other services we offer – feel free to contact us at any time!
How Much Is It to Rent a Party Bus in Kentucky?
The cost of renting a party bus in Kentucky depends on the size of the vehicle you rent, as well as whether you want to add extras like lighting or a sound system. There are several factors that affect pricing: Party buses are larger than limos and shuttles, so they're more expensive. Rental companies charge extra for additional amenities like snacks, drinks or music systems.
What Are the Prices for Bus Rentals?
Rental prices depend on the size of your bus rental and the length of time you need it for. Prices range from $140 per hour to $200 per hour, depending on where you live and what type of vehicle you choose. Just like with limo rentals, there's also an hourly minimum that must be met for your trip; this ranges from $150 to $400.
How Much Is a Limo in Kentucky?
When booking your Kentucky limo rental, you'll want to be sure you choose the right vehicle. The different types of vehicles available include: Luxury Limos – These are typically larger limousines that offer seats for up to 10 people. This type of vehicle is ideal for larger events and parties, such as weddings or proms. Party Buses – These buses are perfect for groups larger than 10 people who are looking for something more exclusive than a typical sedan or SUV. They can be customized with lighting and audio systems so that you can make the most out of your trip without worrying about driving drunk later on! Shuttle Buses – If you want something more economical while still enjoying all the benefits that come with traveling in style, then this is likely the best option for you! It comes equipped with comfortable seating arrangements so everyone can relax during their ride there/back home again.
How Far in Advance Do I Need to Make a Reservation?
There are different factors to consider when deciding how far in advance you should book a limo, bus, party bus or private ride. For example, if you're planning a bachelor party and want to make sure that your crew can all be picked up at the same time on the same night then you may want to book in advance. Otherwise someone might miss out because their car broke down or they got lost along the way! For example: The further in advance that you book your wedding transportation service, the more options there will be available for catering and other details for your big day! The best thing about hiring a professional chauffeur service is that it allows guests who have imbibed too much alcohol (or any other substance) during their festivities not to worry about driving home themselves: You can relax knowing that there will always be someone sober enough behind the wheel of whatever vehicle has been chosen.
What Is the Largest Size Party Bus?
Party buses are available in a variety of sizes, so it's important to know the biggest and smallest. The largest size is 40 passenger party bus, which is perfect for large groups that want to travel together. If you have a smaller group, you may want to consider renting a 14 or 24 passenger party bus instead. These buses are great for bachelor/bachelorette parties and weddings because they can be customized with your favorite colors and decorating themes!
What Is a Private Ride?
A private ride is just like it sounds: a personalized service that allows you to travel in luxury. Private rides are ideal for special occasions, such as birthdays, anniversaries and more. They can also be used for business events or airport transfers. The cost of having a private limo or shuttle can range anywhere from $10 per hour to over $100 per hour depending on where you live and which company you use. Once you've decided on an appropriate price point based on your budget, search online to find out what companies offer this type of service in your area. Then call their offices directly so they can answer any questions about availability and pricing options before making arrangements over the phone or via email (if possible). You may also want to look into some other options like renting buses instead since these tend not only offer great value but are often cheaper than cars themselves when compared dollar-for-dollar against other transportation methods such as taxis or Uber/Lyft rideshare services which may cost more overall due
What Is Your Service Area?
Our service area is the Louisville, Kentucky, metro area. This includes:
Louisville and Jefferson County, KY
Bullitt County, KY (including Shepherdsville)
Oldham County, KY (including Crestwood and Highlands)
Shelby County, KY (including Corbin)
We also provide limo and bus rentals for your transportation needs to destinations outside our coverage area including:
Lexington;
Cincinnati;
Indianapolis;
Nashville;
How Much Do Limos Cost in Louisville?
The cost of a limo or bus rental is dependent on the length of the trip, the size of the vehicle and whether or not it's a special event. For example: If you're taking a short trip in Louisville and only want to ride around town for an hour or two, then you'll likely pay less than if you were taking a long out-of-town trip. If you're renting a larger SUV or mini van for your bachelor party weekend road trip through Kentucky, then expect to pay more than when renting other types of vehicles like sedans or sports cars.
If i 's New Year's Eve at Churchill Downs with all kinds of high-rolling VIPs, expect higher rates than normal because demand will be high and there will be fewer available drivers available due to their own travel plans being booked up due to other parties they have planned that evening/night; this creates competition between themselves which drives up prices!
Can You Just Drive Around in a Party Bus?
Yes, you can drive around in a party bus. There are many places to go, and you can stop wherever you want. You can bring your own food and drinks, or order from a restaurant. You can bring your own music and play it on the stereo if you want to do that instead of listening to the radio or CDs that come with the bus rental company's vehicles.