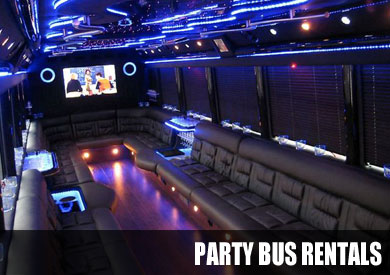 Our kids limo rental service is perfect for your child's birthday, prom or graduation. We have a variety of luxury party buses, limousines and charter buses to choose from. If you are looking for the best transportation services in Louisville then look no further! We provide affordable pricing on all of our vehicles and we will help make your child's next special occasion an unforgettable experience! So why wait? Call us today to get started!
Louisville Party Buses 
There is a new way to enjoy a kids' party and that is to rent a kids party bus Louisville. A party bus is not just for adults. Kids can also use this mobile party venue to have their own party and to take them to different places where kids are welcome in the city. if you are looking for a completely new way to party with your kids then you will surely love a party bus experience.
Kids Party Bus & Limo Rental Louisville
A party bus is simply a bus that has a lot of room for partying. Your kids and their guests could have party games, dances, sing-alongs and eat while they are being transported to a theme park, a kid's museum or a zoo in Louisville. There are lots of amenities for every one such as comfortable seats, party lighting, audio and video equipment and even gaming consoles. It is definitely a one of a kind party that your child will remember forever.

Louisville Kids Party Buses
There are a number of party buses to rent in Louisville. You can rent a large prom party bus that can accommodate more than 30 guests or small buses that can hold up to 20 passengers. Each party bus has all the best amenities that you can find only in Louisville and of course each one is operated by a professional and experienced driver who will safely take you and your guests anywhere you want to go.

Kids Party Bus Prices and Discounts
It is recommended that you call party bus Louisville to find out more about their latest discount offers. Your rental rates also vary according to the type of bus, the number of people or guests you have, the destinations that you wish to visit and the duration of your rental.
Things to Do
Louisville Zoo – take your kids and their friends to the most popular zoo in the state; this is where they could find a large number of animal species living in habitats close to their natural environment.
Cherokee Park – a very popular park where there are camping trails, hiking paths and lots of activities season after season.
Louisville Waterfront Park – a place where you can have quality downtime admiring nature and the waterfront.
Central Park – this is a simple park where you can do all kinds of outdoor activities and even relax for an afternoon.
Beargrass Creek State Nature Preserve – this is a fantastic place to commune and learn from nature.
Airport Transportation
You can ask your driver to pick you up from the Louisville International Airport and take you to your hotel or accommodation. You may start your party bus tour too as soon as you arrive. when your event or tour is over, you can ask your driver to drop you off to the airport too.

Our Limo Services
Aside from kids parties, you can rent wedding limos or party buses for birthdays, bachelorette or bachelor parties, anniversaries, proms and homecomings too. You can also rent a party bus for concerts, conventions, sports events, business meetings, conferences and so much more.
Why You Should Use Louisville Limousines
There are many reasons why you should use Louisville Limousines to help you get around. Here are a few of them: We're the best in the business. You'll find no better price for limo service than with us at Louisville Limo Service. We have regular rates for our services as well as some great deals available on special occasions like Valentine's Day or New Year's Eve (or any other holiday). We have a wide variety of vehicles available depending on your needs – whether it be one person or large groups of people who want to travel together in comfort while enjoying music through our state-of-the art sound systems which operate using bluetooth headsets so they won't disturb your neighbors during long trips!
Why Choose a Kids Party Limo With Louisville Limos?
You can rest assured that your kids will have a great time in one of our kid's party limousines. We have a wide selection of vehicles to choose from, including Cadillacs and Hummers. If you need something specific, just let us know and we'll do everything we can to accommodate your needs. We are well known in the Louisville area, so you don't have to worry about finding us or getting lost on the way there. Our reputation speaks for itself: people love our service! We offer great customer service too! Our prices are also affordable; you won't spend an arm and a leg for one hour worth of fun transportation with us!
Kids Limo Service & Louisville Limos Prices
We offer a wide range of vehicles for your transportation needs. The cost of our kids limo rental service depends on the type of vehicle you choose and the length of time you want us to provide it for. The same goes for the number of people who will be riding in your kids limo. For example, if you book our 12-Passenger Stretch Limo from Louisville Limo, it will cost $200 per hour.
Perfect Transportation Solutions
The best way to make your kids' party memorable and fun is ensuring that they have a safe and memorable experience. We at Perfect Transportation Solutions know how important it is for you to provide the best transportation service there is when you want your child or children's celebration to be perfect. That's why we offer kid party limo rental services in Louisville, Kentucky!
Affordable Pricing on Rentals
We offer affordable pricing on our rentals. Our prices are clearly stated on the website, on the phone and in person. We also have contracts and invoices that clearly state what you will be paying for your rental. If you have any questions about billing or pricing, please do not hesitate to ask us!
Travel Across All Around Kentucky
We offer the best transportation services to all areas of Kentucky. We can transport your group to any location in the state, as well as any other location in the country or world.
What Is Kid Party Transportation Services?
Kid Party Transportation Services is a service we provide to help you transport your children and other guests in style. Our vehicles come with a variety of seating options, allowing you to choose the right one for your needs. They are designed to accommodate:
15 passengers
30 passengers
45 passengers
60 passengers (this vehicle also comes with an open-air sunroof) * 75 passengers
Which Vehicle Is Right For My Group?
When you're planning a group trip, it's important to consider what kind of transportation you need. Here are some options for getting your group from Point A to Point B: Limousines are great for large groups who need privacy and comfort. These vehicles have lots of space, can hold up to 20 people, and come with amenities like TVs and DVD players. If you want something more luxurious than a basic limo experience but don't want the hassle of renting an entire bus or chartering an entire bus yourself, this might be right for your needs. Party buses can accommodate up to 40 passengers at once; they come equipped with bars on board so that your party doesn't stop when you get where you're going! If there's anyone in your group who enjoys drinking alcohol while riding in cars or other means of transportation (or if they just enjoy having access to it), this is probably the best option for them. Charter buses are large vehicles designed specifically for transporting groups of people on long journeys through cities or regions.
Steps To Rent Your Limo, Party Bus, or Charter Bus To Kids Birthday Party
When you're planning a birthday party for your child, it's important to make sure every detail is perfect. From invitations to decorations and food, you want everything to be absolutely perfect for your child's special day. So why not hire Louisville Limo? We offer transportation services that are sure to be enjoyed by all of the children at the party!
Kids birthday parties are our #1 priority! Book one today with us!
Our kids birthday parties are our #1 priority! Book one today with us! We offer a variety of vehicles to choose from, including luxury sedans and limos. If you're interested in having your party at Louisville Limo, we can help you plan the day of your dreams. We also have the best prices in town so you can get more bang for your buck. Don't hesitate to reach out if there is anything else we can do to make your kid's birthday that much better!